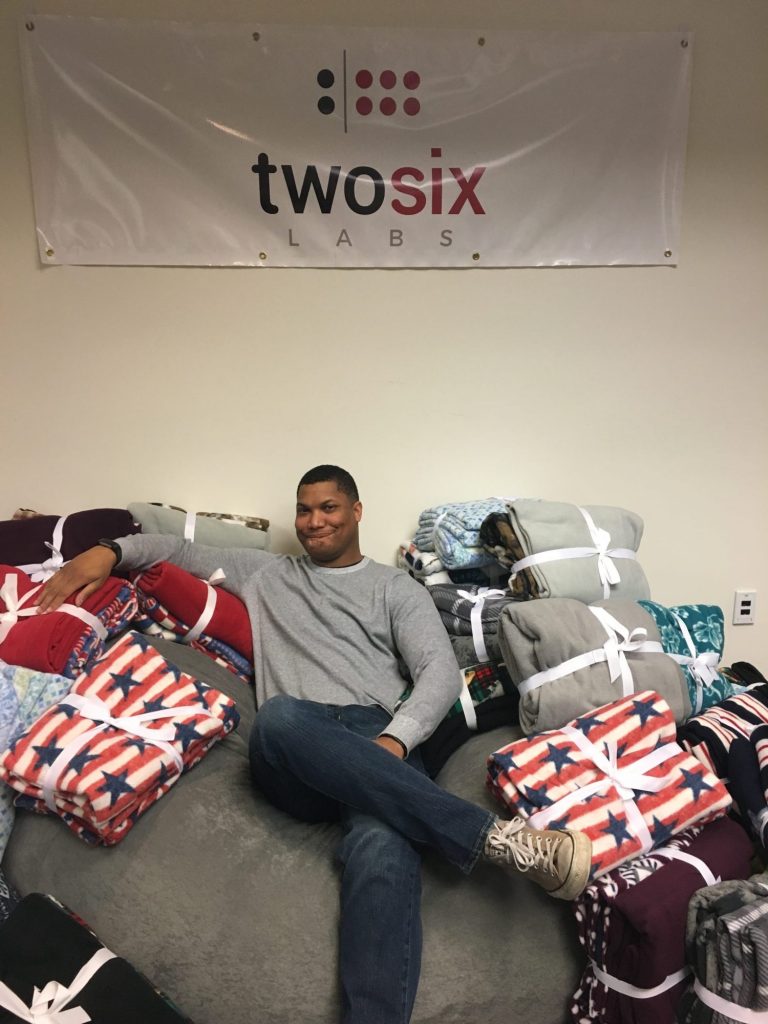 Luke's Wings partnered with Arlington-based Two Six Labs and Pittsburgh-based Fleece Connection to make and distribute 50 blankets for veterans at the Armed Forces Retirement Home.
Founded in 2005, Two Six Labs was originally known as Secure Command Government Solutions, a small cyber R&D firm. In early 2017, it was spun off as a separate and independent company to continue supporting the U.S. military and national security community by solving their toughest R&D challenges. Named for their "emancipation day", Two Six Labs celebrated their February 6th anniversary by supporting veteran organizations, Luke's Wings and Fleece Connections.
As employees arrived on their day off, members of Volunteer Arlington, Luke's Wings and Fleece Connection greeted them for a day of giving back! Kicking off with a delicious breakfast, staff members heard from Luke's Wings Director of Corporate Sponsorship, Dakota Bierly, and Executive Director of Family Communications and Logistics, Jennifer Magerer, about our mission to provide
complimentary airfare to wounded, ill and injured service members and their loved ones. They also heard from Luke's Wings' beneficiary, U.S. Army Sgt. Zachary Herrick, before diving into Fleece Connection's mission of making and distributing comfort blankets to veterans across the country.
To end the day, volunteers made the trip to the Armed Forces Retirement Home to hand out blankets and interact with the residents. It was nothing but smiles and stories for our team!
Thank you to Two Six Labs and Fleece Connection for supporting our military!