Luke's Wings Attends National's Patriotic Series, Presented by SAIC
The rain can't stop this patriotic crowd! Our friends at SAIC hosted Luke's Wings and our families to a day at National's Park to celebrate the close to their 2018 Patriotic Series. These games, surrounding Military Appreciation Day, Women in the Military Day, Independence Day and Heroes Day, host active duty military personnel, reservists, retirees, veterans, wounded warriors and their families for a day of recognition and appreciation. Originally scheduled for Sunday, September 9th, rain forced the National's to reschedule for Thursday, September 13th – but that didn't stop us from enjoying our time at the ballpark!
Team members Katie Currier, Darian Gilley, Lindsay Gill and Dakota Bierly were excited to spend time with long-time supporters, SAIC, as well as beneficiary families. To start the day right, Katie, Darian and Luke's Wings families in attendance were treated to an on-field appearance where they were featured on the jumbotron! After shaking players hands as they lined up for the game, the entire team enjoyed America's pastime from SAIC's hosted suite, alongside Pentagon Memorial Fund, also honored at the game. Luke's Wings has been recognized by SAIC during the Patriotic Series for the past three years – giving us an opportunity for our families to get away from the hospital and appointments and enjoy their time in the Nation's capital. Not to mention, a chance to grab a hot dog and take part in the 7th inning stretch!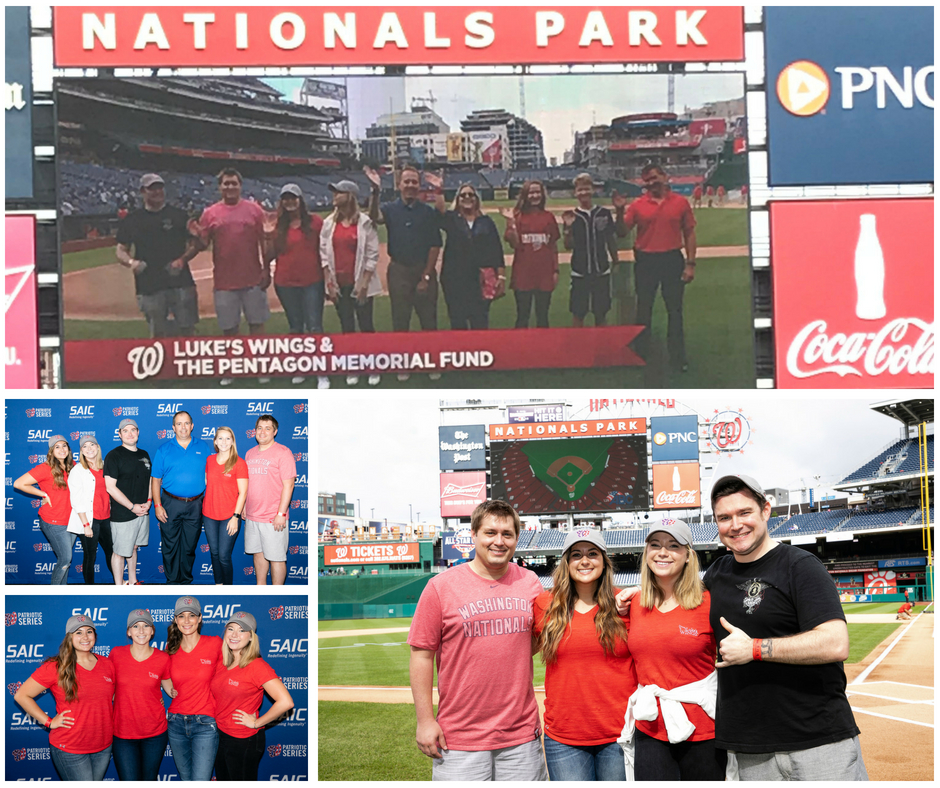 Learn more about SAIC and the Washington National's Patriotic series by clicking here: https://www.mlb.com/nationals/news/nationals-patriotic-series–military-branch-days-return-for-2018/c-271593522